Paid social media advertising is an immediate approach to increase the reach of your content. Facebook Ads is the most popular social media network for advertising adverts, and with 2.91 billion active members, it is the world's largest social network. Facebook advertising is an effective approach to reach out to your target demographic if you know how the Facebook ad works.
However, it's growing more likely that if you want your Facebook postings to be seen, you'll have to pay for reach through advertising. Facebook advertising is all about getting your message in front of the right people at the right time. People who are most likely to be interested in your products or services.
Before you get in, it's critical to understand the various Facebook ad kinds and targeting choices if you want to receive the greatest results. So, when it comes to social media strategy, you have to understand how Facebook Ads work and how to use them effectively. So, let's explore everything about Facebook ads.
Why Facebook Advertising
One primary reason you should use Facebook advertising is the amount of reach that the platform provides, considering that it is the largest social media platform with 2.9 billion users.
Facebook advertising provides e-commerce enterprises with a wide range of targeting choices. Notably, you may contact people not only based on their location, gender, and age, but also on their hobbies, actions, life events, and a variety of other factors.
Furthermore, you may use Facebook advertising tools to promote virtually any type of content relevant to your business, including text posts, images and albums, videos, events, offers, and, of course, connections to your website.
When you combine a massive user base, excellent targeting tools, and a wide range of ad objectives, it's easy to see why Facebook advertising is such a powerful tool for e-commerce marketing.
Benefits Of Facebook Ads
Facebook is not the only social media out there. We have Instagram, Snapchat, Twitter, and many more. But how do Facebook ads work differently from other platforms? What are the benefits of using Facebook ads?
More precisely target customers: Facebook collects a lot of data about its users and makes it available to advertisers for use in targeting their consumers. When you create a Facebook Ad, you may provide demographics such as gender and geography, as well as lifestyle targeting options such as interests, education, and so on.
Obtain impressive results: Setting up advertising on Facebook Ads Manager is simple once you've learned it, and the results come immediately. According to studies, Facebook ads provide the best return on investment.
Ad performance can be tracked in real-time: The Facebook Analytics platform provides excellent resources for analyzing ad success, such as analytics for reach, engagement, conversions, and more. This data is updated in real time, allowing you to fine-tune your campaigns based on results.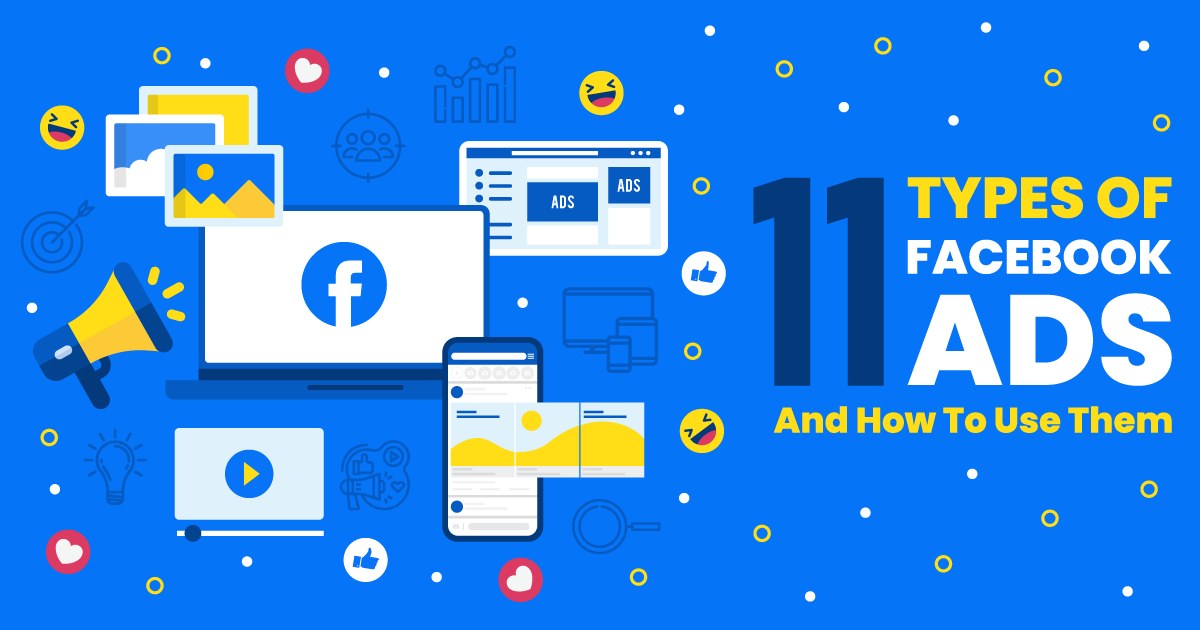 Types Of Facebook Ads
Picture ads: These basic ads may be generated in a matter of minutes by boosting an existing post with an image from your Facebook Page.
Video ads: Video advertising can display in the News Feed and Stories, or as in-stream ads in longer Facebook videos. Video advertisements can show your team or product in action.
Poll ads: This mobile-only Facebook ad format adds an interactive component to an image or video ad by including a two-option poll.
Carousel ads: A carousel ad showcases your goods or service by displaying up to ten photos or videos. You can use this format to emphasise various features of your product (s).
Lead ads: Lead advertisements are only available on mobile devices. They're ideal for gathering newsletter subscriptions, registering people up for a product trial, or allowing users to request additional information from you.
Dynamic ads: Dynamic advertisements enable you to promote specific products to clients who are most likely to be interested in them.
How Do Facebook Ads Work
In order to understand how Facebook paid ads work, you need to understand the goal of the ad system. Facebook's goal is to find the most efficient way to distribute their limited advertising space.
They accomplish this by holding hundreds of micro auctions every second, with advertisers competing for ad space. If you win the auction, you will be charged, and your ad will be shown to the audience you specified.
Your Facebook advertising expenses will be determined by a variety of elements as a result of these auctions. These include your ad's target country, audience, placement, and overall quality. Facebook advertising necessitates extensive testing. Experiment with what you think will work and tweak your campaigns to make them more effective.
Another method is the sponsored ad, also called a business page ad or a boosted ad. Facebook sponsored ads are paid publications that are launched from a Facebook Business Page and displayed to a specific audience in various places in order to increase views, responses, likes, shares, and comments.
It is easy to understand how sponsored ads work on Facebook. You do not need to log in to Ads Manager to create a sponsored ad. Simply click Promote in the left-hand column of your Page and select a form of sponsored ad.
Facebook sponsored ads differ from paid ads in that they are not made in Ads Manager and do not have the same level of customization. When you boost a post, it will appear as an ad in your audience's Facebook Feed.